Mobile Reflexology Service
Reflexology Appointments Brisbane and North Gold Coast
What can I expect from a Reflexology Session
During your first session, there will be a short consultation about the reflexology process, possible reactions, and a brief medical history.
A full-size reclining chair will be set-up where you have space available at your home. You will be asked to remove your footwear and your feet will be examined.
The practitioner will then apply relaxation techniques to your feet to prepare the reflex points for additional work. The amount of pressure applied depends on your sensitivity. Some people like hard pressure with tools, others gentle pressure using hands only.
The practitioner will discuss the session as it progresses and make some suggestions on possible courses of actions to best achieve the desired health outcomes.
A reflexology session is typically 30-60 minutes long depending on your age, health circumstances and the method of reflexology being applied.
Most health outcomes require more than one session if the condition is chronic. However regular sessions would complement your current regimen to maintain balance and avoid chronic health issues.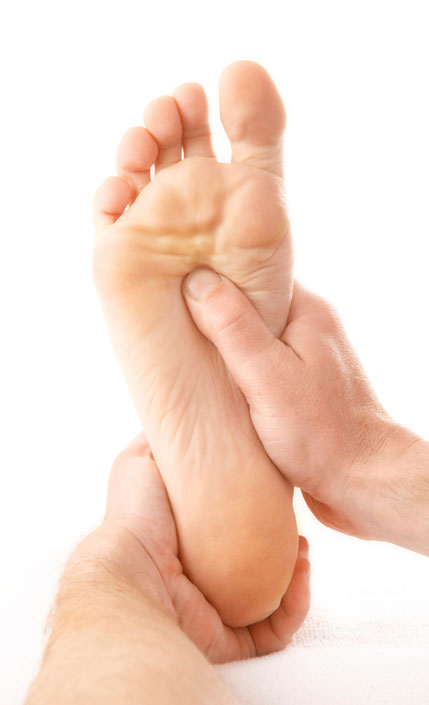 Brisbane & Gold Coast Service Area
Robyn Senden can service most areas of Brisbane and the Gold Coast. The map illustrates the area that is covered on a regular basis. If you live within the marked area on the map, it will be easier to arrange an appointment. If not, Robyn may have to choose a day for your appointment when she is in the area next.
Existing clients are as far north as Redcliffe and as far south as Currumbin on the Gold Coast. However the bulk of appointments fall within the shaded area on the map.
What do I need to do for the Appointment?
Choose a quiet place within your home for Robyn to set up the recliner chair. Choose a relaxed setting with nothing around to distract your attention. For the appointment, please wear loose fitting clothing that can be rolled up past the knees.
Please ensure that there is adequate ventilation or air conditioning during warmer months as the session can be quite physical for the practitioner.
Robyn also provides everything for the treatment including towels, foot washer, moisturiser infused with essential oils and relaxation music. All that's required is space and your feet.
Payment Methods Accepted
EFTPOS, Cash, Direct Deposits (NO PERSONAL CHEQUES)
Bookings & Enquiries
For all booking enquiries, please use the contact form below or if using a mobile, click the Call Now button.
Call Now
Appointment Enquiries
Please be aware that Robyn Senden is not a massage or acupuncture therapist. To avoid disappointment, please do not make enquiries about these services.
The most important information required for new appointments are your phone number , suburb and possible date and time for the appointment. Since appointments can be spread over Brisbane and the Gold Coast on any given day, you may need some flexibility.
Reflexology Appointments for Brisbane and  Gold Coast
All appointments are delivered in the comfort of your own home. Due to the mobile nature of Robyn's practice, availability in your area may be limited. There is no clinic location available for treatments.
*Regularly serviced suburbs for mobile appointments include:
Springwood
Daisy Hill
Shailer Park
Cornubia
Carbrook
Meadowbrook

Eagleby
Loganlea
Edens Landing
Mount Cotton
Alberton
Stapylton
*North Gold Coast area frequently serviced includes:-
Ormeau
Ormeau Hills
Pimpama
Kingsholme
Helensvale

Runaway Bay
Upper Coomera
Coomera
Oxenford
Hope Island
Service Fees
*Appointments outside of the regular service areas may incur a $20 travel charge.
Service fees include all time and equipment required for a treatment. Treatment time commences at arrival and concludes at departure.
90 minute treatment including consultation: $135.00
60 minute treatment: $90.00
30 minute treatment (ideal for children): $65.00
Appointment Hours
Monday - Friday: 10am- 4pm (last appointment time)
Weekends & Public Holidays - By appointment only. Surcharges apply.